In the concealed corners of the city, locals and visitors alike can enjoy some of Halifax's best cocktails, finest brewed beers and creative cuisine. Halifax has underground drinking dens, speakeasies, restaurants hidden down alley ways, on roof-tops, and behind unmarked doors, all waiting to be discovered.
These places may be hard to find, but they're definitely worth the effort. Here are the best hidden bars in Halifax. Keep your eyes peeled, because they're all around you—half the fun is finding them! 
---
El Chino is a 20-seater snack bar across from the Halifax Commons. It's a small, intimate space secreted away behind tinted windows. specializing in tacos, dumplings and tequila. Yes, both Mexican and Chinese snacks!
Opening at 6 p.m. daily, El Chinos is the evening companion to the Robie Street Station, a popular and delicious breakfast and lunch joint.
"We offer Mexican and Chinese snack food prepared from scratch, premium tequila, cocktails and local draft." – El Chino Snack Bar
Photo: El Chino Snack Bar
---
Have 'ewe' been to the Black Sheep? Maybe you've strolled past the sign on Dresden Row, off Spring Garden Road and wondered where the arrow will lead you.
Hidden away from view of the street, down a small side alley, you'll discover the Black Sheep Restaurant. Enjoy all day brunch and in the evening, creative cocktails, craft beer and small plates.
"Our mission is to make awesome food from scratch using quality ingredients, and serve it at an affordable price point in a non-pretentious environment." – Black Sheep Restaurant
Photo: Black Sheep Restaurant
---
1563 Barrington Street, Halifax – Beneath The Middle Spoon Desserterie & Bar
Hidden beneath Barrington Street in the city's downtown core, you'll discover one of the most mysterious venues Halifax has to offer. Noble is an underground speakeasy-style bar tucked away from the hustle and bustle of downtown Halifax. Its secret location and password-only entry just serves to increase the allure of the experience.
A new password is given out every Thursday, all you have to do is subscribe to the hidden page on The Middle Spoon's site, and you'll be added to the mailing list. We won't tell you how to find the page – you're going to have to do that part yourself!
Upon arrival at the Middle Spoon, tell a member of staff the weekly password, and they'll lead you downstairs, through the kitchen and along a corridor until you come to an unassuming door. What's behind the door? You'll have to discover for yourself!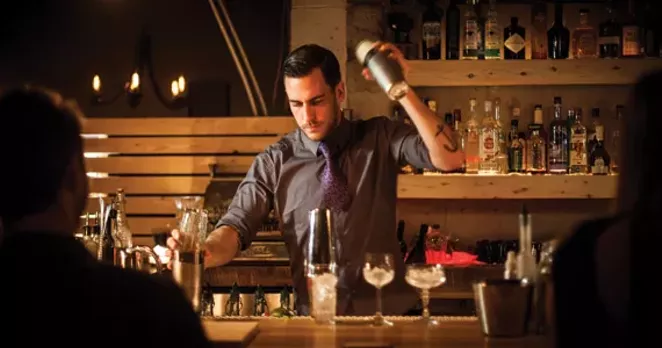 Photo: The Coast Halifax
---
1222 Barrington Street, Halifax
Top floor of The Henry House Restaurant & Pub
Only open two nights a week, Friday and Saturday, The Drawing Room located on the top floor of The Henry House.
It's a unique and elegant space full of character and offering creative cocktails and small plates. Over the years the space has maintained many of if its original period features, including exposed beams and a working fireplace. It's the perfect place to relax and catch up with old friends.
---
1540 Birmingham Street, Halifax
Halifax's favourite hole-in-the-wall, Tom's Little Havana is located on Birmingham Street (formerly located only a few blocks away on Doyle Street). Tom's is a local-favourite with plenty of regulars who love it for their daily happy hour (5pm-8pm), weekend brunch, diverse pub-style food, cold craft brews and weekly wing nights.
Tom's hosts Trivia Night every Sunday, plus they have a great selection of board games, perfect for playing over a drink or two.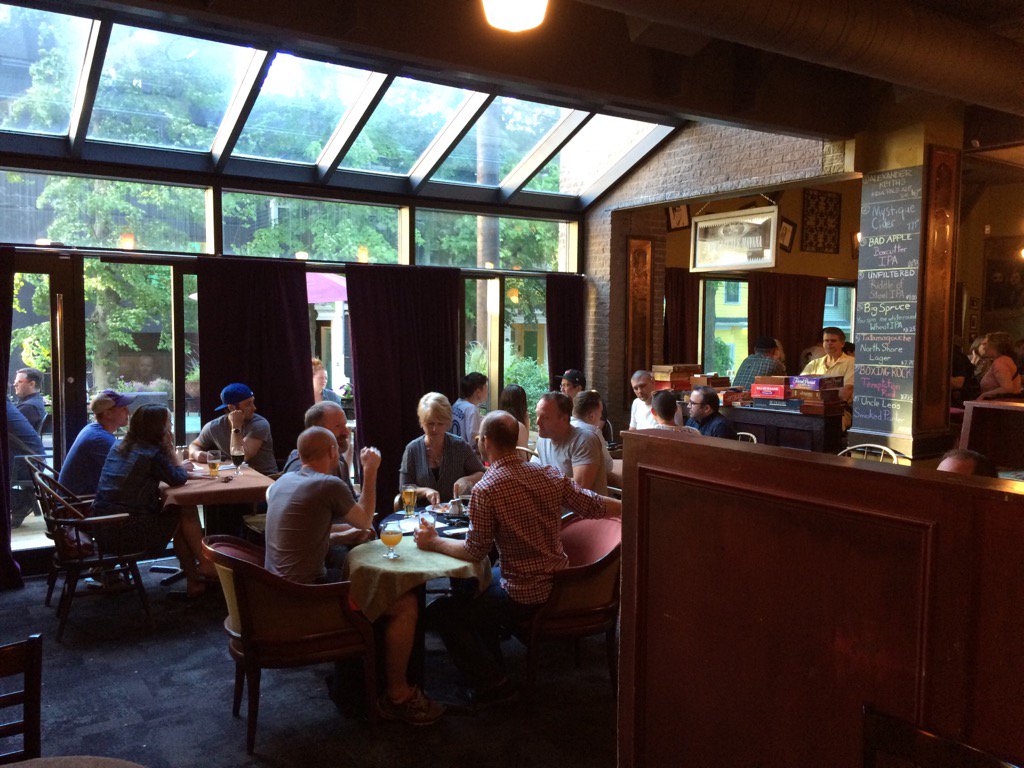 Photo: Tom's Little Havana
---
1496 Lower Water Street Suite 314, Brewery Market, Halifax
The Red Stag is a pub  in the heart of Halifax's waterfront, hidden away inside the iconic Alexander Keith's Nova Scotia Brewery.
The Red Stag serves up traditional Nova Scotian hospitality with pub food favourites, cold draft beer and an epic rooftop patio with harbour views.
---
Stay in touch! Whether you're still planning your trip or you're already here, check us out on social media for travel ideas, adventure inspiration, and an inside look at all things Halifax.
Follow us on Facebook, Instagram and Twitter, and use #DiscoverHalifax to share your photos and videos with us.
---
WELCOME TO HALIFAX  |  P'JILITA'Q WLA KJIPUKTUK
Connect with Halifax on social media.